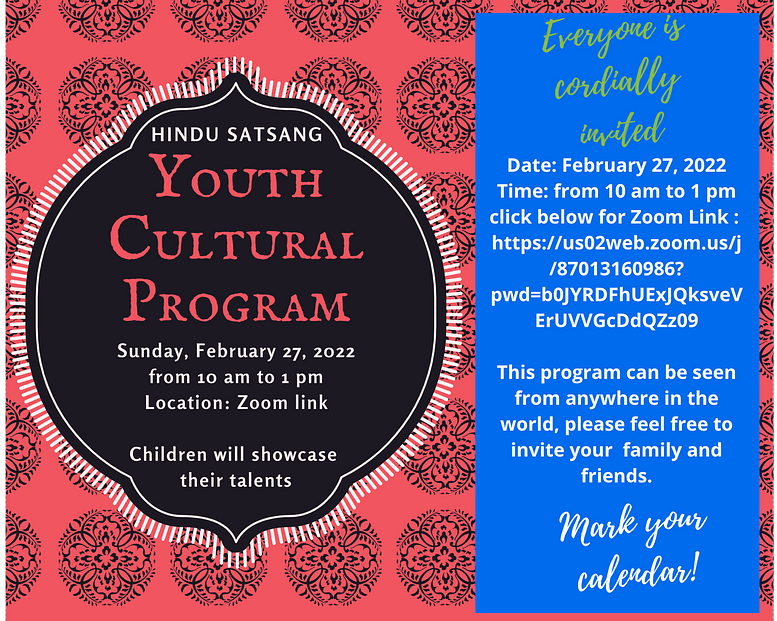 2022 Hindu Satsang Youth Festival - Feb 27
Our 2022 Hindu Satsang Youth Festival is approaching fast. The program will be hosted through Zoom between 10 am and 1:00 pm.
Zoom Link:
https://us02web.zoom.us/j/87013160986?pwd=b0JYRDFhUExJQksveVErUVVGcDdQZz09
Here's a chance for kids to showcase their talent and get an award for participating in this event.

We have a limited number of spots (4 minutes max duration), so please fill out the form as soon as possible. The deadline for performance requests is Feb 19. The performance could be a group or solo - Bhajan, song, instrument, speech, skit, or any other temple appropriate talent.
To make this possible, we need your help to submit your child's recording of their performance by February 26. Please understand that we will not be accepting any recordings after this date, as we also need to put the program together. As a reminder, please upload the recording by editing your Google Form response. You should have received a confirmation email at the time of submission. Please check your spam if it's not in your inbox. If, for any reason, you experience an issue uploading the recording, you can send the recording to shivamv@gmail.com via the Google Drive. Please do not share the recordings via WhatsApp.
Please let me know if you have any questions.

Link for the participation: <Last date to submit video is February 26th, 2022.>