Hindu Satsang - Sunday School
Hindu Satsang Sunday School Registration
The first session of the academic year 2022-2023 will start on Sunday, 08/21/2022.
Hindu Satsang is a nonprofit organization that has served the Indian community in the Chicagoland area since 1977.
Complete the following online form if you are interested in registering or learning more about the Hindu Satsang Sunday School:
Our Mission: We are in the pursuit of enriching children in our rich Indian culture, customs, traditions and providing them with an environment to absorb, practice, cultivate and to pass on our heritage to the next generation.
The Hindu Satsang Sunday School is a great place for children to meet and interact with smart, like-minded friends. Many of our students who have passed out of our school continued to learn Hindi passionately during their graduation. Our students feel proud of the achievement of our Indian community, which makes them confident to converse without any hesitation about being a Hindu or an Indian. They don't feel like an alien when they visit India, they can talk and mingle with their Indian families with ease.
Our Goal and the School Features
Here are some of the objectives and essential aspects of our Sunday School:
Hindu Satsang has been teaching children for over 25 years. All Hindu Satsang teachers and education coordinators are very passionate volunteers, experienced and dedicated to this initiative.
Children attending the Hindu Satsang Sunday School have numerous chances to obtain scholarships.
Children receive certificates/awards and prizes upon completion of the academic year.
Our students get plenty of opportunities to participate in many of our cultural events/stage programs organized by Hindu Satsang during the year at Lemont Temple auditorium – like Ramlila play on Dussehra, Janmashtami cultural program, youth cultural events, etc.
Once every month (4th Sunday), all Hindu Satsang family members get an opportunity to participate and listen to distinguished personalities/ experts and guest singers – followed by social networking with other families over Preeti Bhojan (lunch).
Hindu Satsang is very popular for its awesome picnics, and sports events for children and adults.
Children are divided into different learning groups based on their knowledge level, all children feel comfortable in no pressure environment that is conducive to learning.
Our Sunday School does not interfere with their regular school routine.
Children can write articles and essays for our popular Hindu Satsang Monthly Newsletter (available in print and digital format).
In our Sunday School, children learn about:
Hindi language (written and verbal)
Hindi songs, shlokas, rhymes, and poems
Hindu culture and religion
Epics like Ramayana and Mahabharata
Exposure to Indian games like Chess, carrom board, etc.
Indian festivals and religious events
Children work on a presentation project related to India
Learn about the contributions of Indians in various fields.
Most importantly, children learn to be proud of themselves, contribute to society and make a difference, live peacefully in harmony, and converse confidently about being an Indian and a Hindu.
Get in touch with our education coordinators for further details.
Class Schedule: We have our classes on every Sunday (except the 4th Sunday of a month and major holidays). Drop off your child(ren) by 2 pm and pickup up at 4 pm.
Location: 95th Street, Naperville Public Library Address: 3015 Cedar Glade Dr., Naperville, IL 60564
If you want to enroll child(ren) or donate to this good cause, please contact any of our education coordinators or just drop in between 2 pm & 4 pm during the session at the 95th Street Naperville Public Library.
To join the 2022-2023 school year, the child must be 7 years of age or older as of September 1, 2022.
Fees: For the whole academic year (from August 2022 to May 2023), is $125 for the first child and $50 for each additional sibling, plus $10 for the courseware/books for each child.
Enroll your child in Hindu Satsang Sunday School.
If you are interested in signing up your child(ren) in Hindu Satsang Sunday School, please go to the following link, and complete the form:
Please get in touch with our teachers or education coordinators if you have any inquiries concerning the Hindu Satsang's Sunday School:
Sh. Jug Uppal (630) 276-6986
Smt. Shubh Malhan (630)550-1386
Sh. Anant Vyas (630) 890-757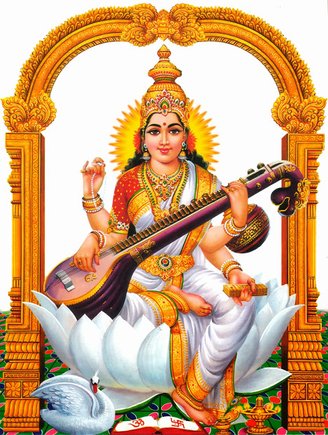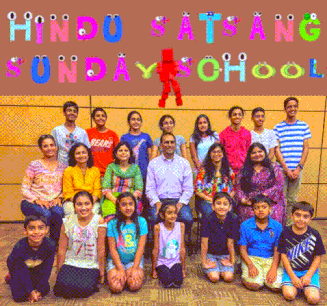 Hindu Satsang Sunday School
Mata Saraswati
Goddess of Knowledg

e,

Music, Art, Wisdom, and Learning.
Play Saraswati Vandana below
Children learn to be proud of themselves, contribute to society and make a difference, live peacefully in harmony and converse confidently about being an Indian and being a Hindu.